General overview and Research Groups
The Turing Centre aims to stimulate a highly interdisciplinary community, especially physicists, mathematicians and computer scientists who, together with biologists, provide the means to base experimental studies on solid quantitative grounds, to identify new questions and conceptualize new ways of understanding the complexity of living systems.
Life is based on dynamic systems whose organizational principles remain unclear due to their complexity. Such complexity has different origins. Living systems are the product of a long evolutionary history and are intrinsically dynamic as they develop, renew their components, adapt to their physiological environments and are trained. This is illustrated for instance in the development of embryos and organs, and in the function of the immune and nervous systems.
Understanding biological complexity is one of the most significant challenges for the future. It will impact both basic research and medicine, since diseases emerge from anomalies in the organization and dynamics of living systems.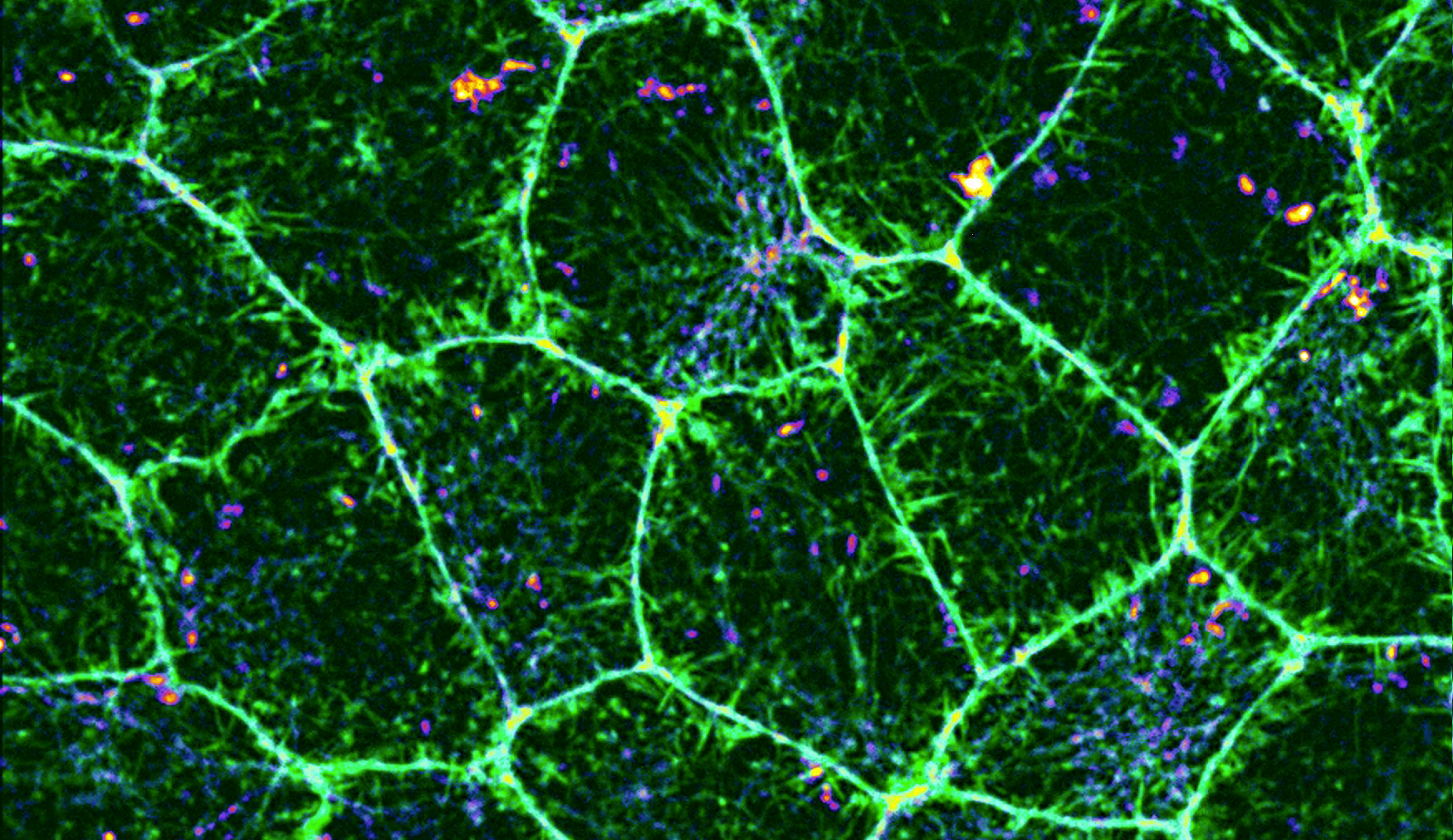 The Turing Centre addresses the nature of the information underlying biological processes, and the organization and dynamics of biological structures. Five over-arching questions bringing together biologists interested in development, neuroscience and immunology along with physicists, computational biologists and mathematicians will underlie the research effort:
How does genetic information impact on cell fates?
How do signalling dynamics impact on cell differentiation?
How is information encoded in collective cellular dynamics?
How do networks of cell interactions form and function collectively?
How does mechanics impact on cell and tissue organization and dynamics?
CENTURI recruits researchers and post docs with backgrounds in computational biology, theoretical physics or biophysics, with a strong interest in working in a cross-disciplinary environment.
People and projects funded by CENTURI
Marie-Anne Burklein (Institut Fresnel - IBDM) - Smart-scans for live imaging of morphogenetic processes
Damien Courtine (LAI, CIML, LIS) - Deciphering chemical signals guiding T cells towards and in lymph node
Céline Dinet (IBDM, LCB) - A Multiscale Analysis of Cell Polarity Transitions in a Bacterium
Clara Dussaux (INMED, CPT) - Long-term functional connectivity dynamics during brain development
Simon Gsell (IBDM, CPT) - Computational modeling of the interplay between cell differentiation and mechanics in embryoids
Stefan Harmansa (IBDM) - Emergence and Dissipation of Mechanical Stress during Epithelial Growth
Cheng-Tai Lee (CPT) - Mechanics of disordered biopolymer networks
Nicolas Levernier (CPT, INMED) - Attractor neural networks and the resolution of a brain's self-positioning system
Shao-Zhen Lin (CPT) - Hydrodynamic instabilities in curved environment
Maxime Lucas (IBDM, I2M, CPT) - A Multiscale Analysis of Cell Polarity Transitions in a Bacterium
Fabio Manca (LAI, CINaM) - Modeling mechanosensing of T cells: from ligand-receptor bonds to cytoskeleton dynamics
Olivier Mesdjian (M2P2, CINAM) - Long-range collective dynamics of cilia
Maria Mandela Prünster (IBDM, IMBE) - Evolution of protein interactions
Shrisha Rao Balappa (CPT, INMED) - Study of the neural dynamics supporting internal spatial representations
Jain Rikesh (LCB - IBDM) - Functional and bioinformatics analysis of predator prey interaction in bacteria
Stefania Sarno (INMED, IRPHE) - Why animals learn the way they do?
Saswati Saha (TAGC) - Systems genetics: Developing new approaches integrating network analyses and modeling
Solène Song (LAI, CIML, LIS) - Deciphering chemical signals guiding T cells towards and in lymph node
Dmitrii Suchkov (INMED) - Multimodal exploration of pre-epileptic structural and circuit-levels changes in brain malformations
Nicolás Tizón-Escamilla (CPT) - What can we learn from fluctuations in living active materials?
Elisabeth Wieduwild (CIML, LAI) - Memory B cell dynamics in the skin
Francesca Zaccagnino (IBDM, I2M) - Contextualisation of signalling fluctuations
Multimodal exploration of pre-epileptic structural and circuit-levels changes in brain malformations
Mapping and classifying the topography of adhesive cell interface with high precision
Assembly of a persistent apical actin network by the formin Frl/Fmnl tunes epithelial cell deformability. Dehapiot, B., Clément, R., Alégot, H. et al.  Nat Cell Biol (2020). https://doi.org/10.1038/s41556-020-0524-x
Turning the body into a clock: Accurate timing is facilitated by simple stereotyped interactions with the environment. ,  , ,  ,  ,  ,  , , and
Anisotropy links cell shapes to tissue flow during convergent extension.  Xun Wang,  Matthias Merkel, Leo B. Sutter, Gonca Erdemci-Tandogan,  M. Lisa Manning, and Karen E. Kasza. PNAS June 16, 2020 117 (24) 13541-13551; first published May 28, 2020; https://doi.org/10.1073/pnas.1916418117 
Active mucus–cilia hydrodynamic coupling drives self-organization of human bronchial epithelium.Loiseau, E., Gsell, S., Nommick, A. et al.  Nat. Phys. (2020). https://doi.org/10.1038/s41567-020-0980-z
Self-organization of red blood cell suspensions under confined 2D flows. C. Iss, D. Midou, A. Moreau, D. Held, A. Charrier, S. Mendez, A. Viallat#, Helfer#. Soft Matter 15, 2971 (2019)
White blood cells dynamics in micro-flows. A. Viallat, J. Dupire, Helfer. In : Blood Cells Suspension Dynamics in Microflows, CRC Press (2019)
Are Conventional Type 1 Dendritic Cells Critical for Protective Antitumor Immunity and How? Cancel JC, Crozat K, Dalod M, Mattiuz R.  Front Immunol. 2019;10:9. doi: 10.3389/fimmu.2019.00009.
NK cells orchestrate splenic cDC1 migration to potentiate antiviral protective CD8+ T cell responses. Ghilas S, Ambrosini M, Cancel JC, Massé M, Lelouard H, Dalod M, Crozat K.  bioRxiv 2020.04.23.057463; doi: https://doi.org/10.1101/2020.04.23.057463
A minimal-length approach unifies rigidity in underconstrained materials. Matthias Merkel, Karsten Baumgarten, Brian P. Tighe, M. Lisa Manning. Proceedings of the National Academy of Sciences Apr 2019, 116 (14) 6560-6568; DOI: 10.1073/pnas.1815436116
Matrix metalloproteinase 1 modulates invasive behavior of tracheal branches during entry into Drosophila flight muscles. Sauerwald J, Backer W, Matzat T, Schnorrer F, Luschnig S. eLife. pii: e48857. doi: 10.7554/eLife.48857.
A small proportion of Talin molecules transmit forces at developing muscle attachments in vivo. Lemke SB, Weidemann T, Cost AL, Grashoff C, and Schnorrer F. (2019). PLoS Biology. 17(3):e3000057. doi: 10.1371/journal.pbio.3000057
1 contributes to a rapid homeostatic plasticity of intrinsic excitability in CA1 pyramidal neurons in vivo. Morgan PJ, Bourboulou R, Filippi C, Koenig-Gambini J, Epsztein J. Elife. 2019 Nov 27;8.
Dynamic control of hippocampal spatial coding resolution by local visual cues. Bourboulou R, Marti G, Michon FX, El Feghaly E, Nouguier M, Robbe D, Koenig J, Epsztein J. Elife. 2019 Mar 1;8
Genetic induction and mechanochemical propagation of a morphogenetic wave; Bailles A, et al. Nature 2019. PMID 31413363
Experimental validation of force inference in epithelia from cell to tissue scale; Kong W, et al. Sci Rep 2019. PMID 31601854
Mechanical Stiffness of Reconstituted Actin Patches Correlates Tightly with Endocytosis Efficiency. PLANADE J, BELBAHRI R, BOEIRO SANDERS M, GUILLOTIN A, DU ROURE O, MICHELOT A*, HEUVINGH J. PLoS Biol. 2019 Oct 25 ;17(10) :e3000500
Sizes of actin networks sharing a common environment are determined by the relative rates of assembly. ANTKOWIAK A, GUILLOTIN A, BOEIRO SANDERS M, COLOMBO J, VINCENTELLI R, MICHELOT A*. PLoS Biol. 2019 Jun 10 ;17(6) :e3000317
Internal representation of hippocampal neuronal population spans a time-distance continuum. Haimerl C, Angulo-Garcia D, Villette V, Reichinnek S, Torcini A, Cossart R, Malvache A. Proc Natl Acad Sci U S A. 2019 Apr 9;116(15):7477-7482. doi: 10.1073/pnas.1718518116
Distinct RhoGEFs activate apical and junctional actomyosin contractility under control of G proteins during epithelial morphogenesis. Alain Garcia De Las Bayonas, Jean-Marc Philippe, Annemarie C. Lellouch, Thomas Lecuit. Current Biology. 2019 Oct 21;29(20):3370-3385.e7. DOI: 10.1016/j.cub.2019.08.017
Distinct contributions of tensile and shear stress on E-cadherin levels during morphogenesis.Kale GR, Yang X, Philippe JM, Mani M, Lenne PF, Lecuit T. Nat Commun. 2018 Nov 27;9(1):5021. doi: 10.1038/s41467-018-07448-8. PMID: 30479400
Novel Cre-Expressing Mouse Strains Permitting to Selectively Track and Edit Type 1 Conventional Dendritic Cells Facilitate Disentangling Their Complexity in vivo. Mattiuz R, Wohn C, Ghilas S, Ambrosini M, Alexandre YO, Sanchez C, Fries A, Vu Manh TP, Malissen B, Dalod M, Crozat K.  Front Immunol. 2018;9:2805. doi: 10.3389/fimmu.2018.02805.
Quantitative Control of GPCR Organization and Signaling by Endocytosis in Epithelial Morphogenesis. Jha A, van Zanten TS, Philippe JM, Mayor S, Lecuit T., Curr Biol. 2018 May 21;28(10):1570-1584.e6. doi: 10.1016/j.cub.2018.03.068. Epub 2018 May 3.