The Turing Centre for Living Systems (CENTURI) is an interdisciplinary project located in Marseille (France).
CENTURI aims at developing an integrated interdisciplinary community, to decipher the complexity of biological systems through the understanding of how biological function emerges from the organization and dynamics of living systems.
The project federates 20 teaching and research institutes in biology, physics, mathematics, computer science, engineering and focuses on Research, Education and Engineering, 3 missions that hold interdisciplinarity as their core principle.
The research and training programmes implemented under the auspices of CENTURI will foster new collaborations, will transform practices, will attract new talents and thereby contribute to making the Luminy campus a leading site for the ​​interdisciplinary study of biological systems.
CENTURI has set up a scientific governance structure adapted to a large scientific community, through the creation of a Steering Committee and several committees dedicated to Research, Education/Training and Engineering. The principal body responsible for the overall supervision of the project is the Steering Committee and is led by Pr. Thomas Lecuit, in the directions compatible with the Center's missions of interdisciplinarity in biology.
Thomas Lecuit has always contributed to the development of innovative and interdisciplinary research on living organisms. Former student at the Ecole Normale Supérieure, director of research at the CNRS, member of the Académie des Sciences since 2014, CNRS Silver Medalist in 2015, Professor and Chair of the "Dynamics of Life" at the College de France, Thomas Lecuit studies the dynamics and organisation of cells and tissues during development, combining genetics, cell biology and biophysics. Since 2001, he is leading the Architecture and Plasticity of Tissues team as a Research Director at the IBDM in Marseille.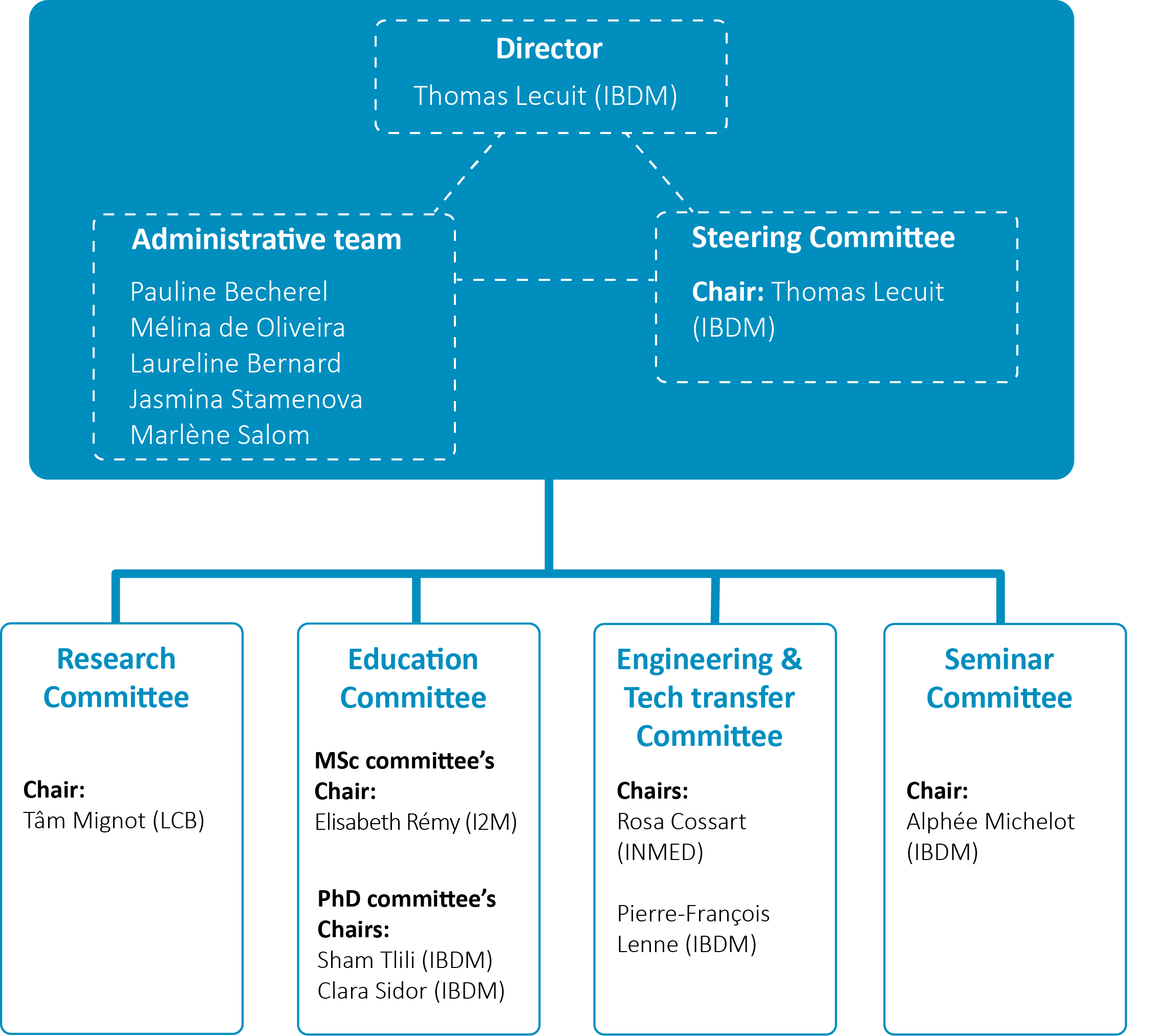 The Scientific Advisory Board (SAB)
Comprised of internationally renowned scientists, covering the different disciplines of CENTURI, the SAB has a strong experience in interdisciplinary research and teaching. Their role is to examine the scientific output of the projects every two years and provide advice to the executive director and to the steering committee.
The name "CENTURI" has been chosen to the honor of Alan Turing, famous mathematician and computer scientist, but also pioneer in theoretical biology.
In 1952, he published a seminal paper entitled "The Chemical Basis of Morphogenesis", a landmark in theoretical biology. It triggered a whole new field of mathematical enquiry into pattern formation, deciphering reaction-diffusion mechanisms and their consequences in dynamic living systems.
CENTURI is laureate of the National call "Instituts Convergences" of the French State in the context of the "Investments for the Future" programme (2nd PIA). The project will recruit more than 100 people (researchers, engineers, PhD students, Post-docs) over 9 years with a budget of € 20 million co-funded by the French National Research Agency and the A*MIDEX Foundation.