In early October 2019, the Turing Centre for Living Systems (CENTURI) organised the 2019 edition of its annual scientific meeting. Entitled "Self-organization in multicellular systems", the conference gathered in Cargèse (Corsica, France) for 5 days about 90 participants from all over the world.

CENTURI Scientific meetings are interdisciplinary scientific symposia organised every year, which aim to gather scientists from various disciplines (biology, physics, mathematics, computer science) to discuss about a wide range of topics in life sciences. This year, CENTURI Scientific meeting was organized as a week-long symposium, at the Institut d'Études Scientifiques de Cargèse (Corsica, France).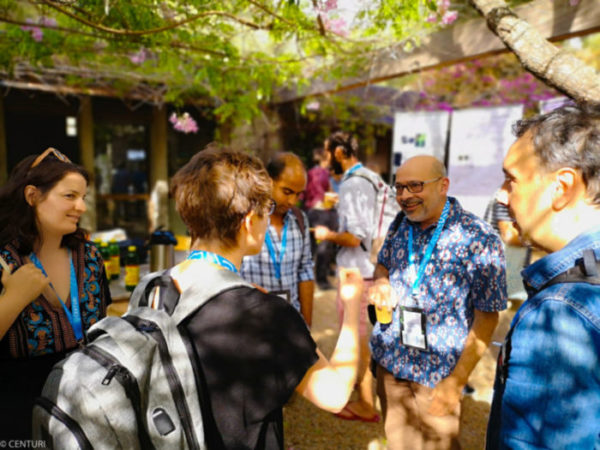 CSM2019 welcomed about 90 participants from September 30 to October 04, 2019. The conference brought together scientists developing experimental, theoretical as well as modelling approaches in the search for principles that underlie the similar spatial and temporal organisation and dynamics across scales and biological contexts. Spatial and temporal patterns can be found in various biological contexts: in the nervous systems, during cell migration and tissue morphogenesis or in cell shape changes, cell polarization and cell movement, etc. Our symposium was organized around two guiding threads: how do such spatial and temporal dynamics arise? What are the respective contributions of biological regulation and self-organization (i.e. local interactions)? Various disciplines were represented, from cell biology and biophysics to neuroscience and immunology. It was great to see that we can speak a common language despite our different backgrounds and the variety of questions that we tackle.

Thanks to the contribution of all participants, we designed an exciting programme, composed of 18 invited talks, 16 selected talks, and two long poster sessions, which gave PhD, postdocs and permanent scientists a wonderful opportunity to exchange about their research findings and insights in a friendly atmosphere. The programme also included a keynote lecture by Guy Theraulaz (Université Paul Sabatier) entitled "Self-organization in social insects".

CENTURI's next scientific symposium will be co-organized with our friends from Cambridge. The symposium Physics of Living Matter is coming back to Marseille for its 15th edition. The event will take place October 01 & 02 at the Palais du Pharo (Marseille, France).